Tag Archives: Syrian refugees
Here is a gross understatement; 'much has been discussed, argued about allowing Syrian refugees into the U.S. and other European nations, especially now after Paris.'  For the sake of our conversation lets just concern ourselves with the U.S.
Americans are good people, we care about others, we are compassionate.   We are the most generous nation in the history of our planet.   We want to do the right thing, we want to help the Syrian people, most are good people.   But, these are difficult times, serious threats are made against us daily from a terrorist nation that promises to destroy us, on our turf.  They want our military in their land to fight them there, so that we go unguarded here.   Attacks will happen here!
We live in a very dangerous time.   We as a nation can not just waltz into a country with food, clothing, medicine as we once did.
Trust is a lost word.  Where can you find it these days?
HOW CAN WE TRUST A MASS FLOW OF REFUGEES COMING INTO OUR NATION WHEN WE DO NOT TRUST THE U.S. PRESIDENT THAT THREATENS TO BRING THEM HERE?
Terrorists will filter in with the refugees, it happened in Paris, it has probably already happened here in the U.S.
Relocation is not the answer to problems in the Middle East.   I know someone will say, 'that is how America was founded, that's what we are about.'   That was once true, but the times are different.  The Muslin radical extremists are/will use the flow of refugees as a weapon against us.  We are not the same country we once were, the times will not allow it.   We have an obligation to protect the people who are here.   Our citizens.
America's generosity has run dry.   The well is empty, it was never going to last forever, not at the same rate it was going anyway.   It is time we looked out for number one.   US!
I repeat:   How can we trust a mass flow of refugees coming into our nation when we do not trust the U.S. President that threatens to bring them here?   Obama, knows what will come with it, he is counting on it.   We need to acknowledge what Obama is, a destroyer.   Refugees would not be swarming from Syria had Obama dealt with, destroyed ISIS earlier.   He knows what he is doing, and it is not in the best interest of our country.  Obama the destroyer.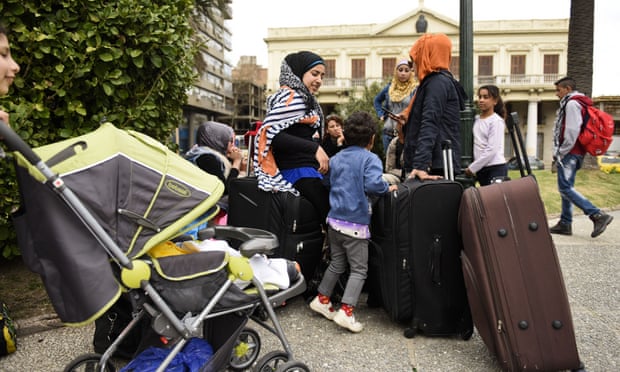 According to  mayor Slay, about 1,400 Syrian refugees could be coming to St. Louis.    My first thought; why not, St. Louis has so much to offer.
Dear refugee; come at your own risk.   I know you believe you are leaving the land of terror in the Middle East for the land of opportunity and peace, but St. Louis can look like those same streets you think you are escaping.   Gun shots ring out every night in the STL neighborhoods, inner-city, north-side, south-side and west-side.  East-side only saved by the Mississippi River.   East-side puts you in East St. Louis, Illinois, maybe you'd feel at home there.
If you inch your way west of the city, into the counties, you will find job opportunities.   Hiring signs are scattered everywhere, if you don't mind flipping burgers, nail salons, sweeping floors; all those jobs Americans on unemployment benefits do not seek out or would be caught dead doing; most would not be caught dead working…….period.    Investigate abandoned homes in Ferguson for shelter…..no one else wants to relocate there.   Hell, the government may even buy some of those houses for you.
Leave the nation's flag you grew up under and leaving where it is, do not bring it here…..our country has issues with flying flags that have political incorrectness; oh wait we may accept your foreign flag, we only piss on our flags that remind us of our history.
Good luck and welcome to America!  Have you had all your vaccinations