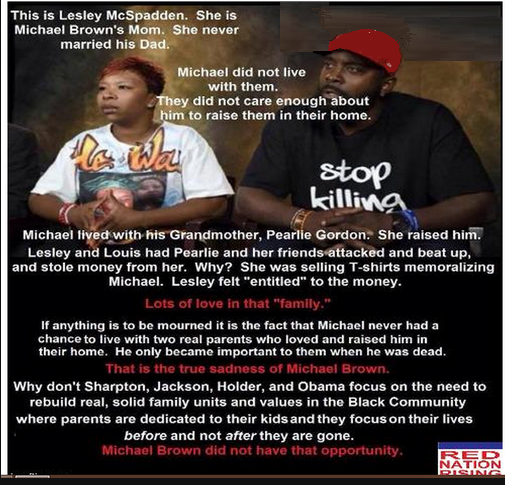 This is how I see it, and is my opinion, which I am expressing here, all within my freedom of speech.
There are many opportunists in Ferguson, Missouri these days, none greater than those who should be the most caring.  Twisted truth started long before that early afternoon on August 9 of this year, when Michael Brown was killed by a police officer, during a physical confrontation.
Michael Brown was a bully, as we saw on the convenience store video.   Sorry folks, pictures, especially motion pictures, do not lie.  Behavior is learned, starting at birth.   From some of the actions we have learned from Lesley McSpadden in particular, Michael had a good teacher.
It is sad a young man died so early in life.  Michael's grandmother Pearlie Gordon was possibly the only positive caring adult in Michael's life, that gave him a chance to make something of himself.  We won't ever know how much of an influence Pearlie really made.
Michael's mother is being investigated for attacking and stealing from members of her own family.   Lesley McSpadden is not the caring mother she has so pretended to be, she is an opportunist.  Lesley is no different from the rioters, looters and arsonists in Ferguson.  Lesley learned somewhere in her own life how to milk the system, society.
Michael Brown's destiny began long before he met then Officer Darren Wilson.   The real story, one young life is dead and another's ruined; and their path began 18 years ago.