THE BRYCE IS RIGHT!
BRYCE ON POLITICS
– "Now is the time for all good men to come to the aid of their countrymen."
Click for AUDIO VERSION.
To use this segment in a Radio broadcast or Podcast, send TIM a request.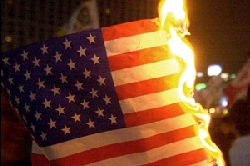 Independence Day is just around the corner, which is normally celebrated with parades and fireworks, but these times can hardly be called "normal" anymore. As such, I believe it will be played down this year. Most, if not all, local 4th of July parades have been cancelled due to the COVID-19 virus along with a fear for the general safety of the population in these turbulent times, particularly in Democrat strongholds of urban areas. However, there might be another reason, a decline in patriotism.
The Gallup organization recently produced a study titled, "U.S. National Pride Falls to Record Low" (6/15/2020), which describes our attitudes about patriotism. Under the category of…
View original post 606 more words