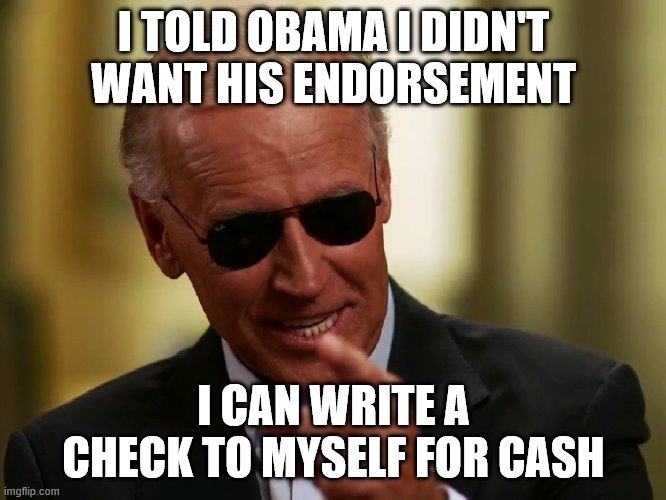 Joe Biden has indicated only that he has aging mental issues he is dealing with( not really dealing with). This of course no fault of his own. Joe thinks he is Iron Man, Superman, Spiderboy/man and probably Batman all rolled up in one. Ask Joe, he'll take credit for everything, everything and anything that is thought to be a good thing, Joe was responsible for making it happen. How many times have we heard him say "I did that……..man that was me." Except in most cases it wasn't. Joe was never in sight, he was probably on a plane headed to China. This all during the OBAMA ADMINISTRATION.
When Joe is on the road, he can't remember or he never really knew where he is or was. This isn't make believe this is true stuff. Joe, picks fights/arguments ……….especially when he is confused and has no answer, or can't remember. He gets lost, not only where he is but in thought. That is not good.
If Joe Biden were elected Dog Catcher, he'd not understand the purpose……….he'd get ate up by a Chihuahua. Joe needs to retire from public life. I know it may be hard for him to do. Dems are using Joe Biden. They'll try to get him elected President, but someone else will be running the show. It probably won't be the VP, no matter who it is………..unless it is Hillary. That would be toooooooo obvious! It wouldn't get Joe elected. Sure defeat, more so than it already is. The White House would be run by committee, with one executive above all others……. Who? Think about the Democratic leaders in plain sight. Its frightening. Extreme lefties………with socialists agendas. AOC? OMG! (Would she be Joe's WH bartender?)
Enter Barack Obama! He finally decided to endorse Sleepy, Creepy Joe once there was no one else for him to endorse. I guess he could have picked someone for nomination at the DNC convention (if and when there is one). Obama does not believe Biden is the best of the Dems for President. If he did, he would have endorsed him long ago. Or, maybe he doesn't like looking like a loser, by endorsing Joe if he then lost the nomination. Embarrassing!!
Obama said, just yesterday Joe had the right "character" to be president during this time (thru this darkness). Obama is still quite the bull dung tosser! He can not truly believe this if he has been paying ANY attention. Of course Obama does know, Joe, even if elected would not be the leader in the White House. You just know there'd be an open and frequently used phone line between the WH and Obama's house, where little Joe or his handlers can speak to either Barack or Michelle at any time. Joe, Barack (with Michelle) and a side kick (aka VP), along with a socialist team of handlers. I bet these phone calls wouldn't get monitored. Kind of like the movie DAVE, only corrupt realism.
Obama said Biden had the character………..what he really meant, and I am sure he was saying under his breath….."Joe Biden is a character". That we can all agree to.
Joe go home, retire, go fishing………..if you know how. Hell take a ride to China with Hunter. Close the books there! Soon they may be out of business. We shouldn't be doing any further business with China. Go cash in your chips.