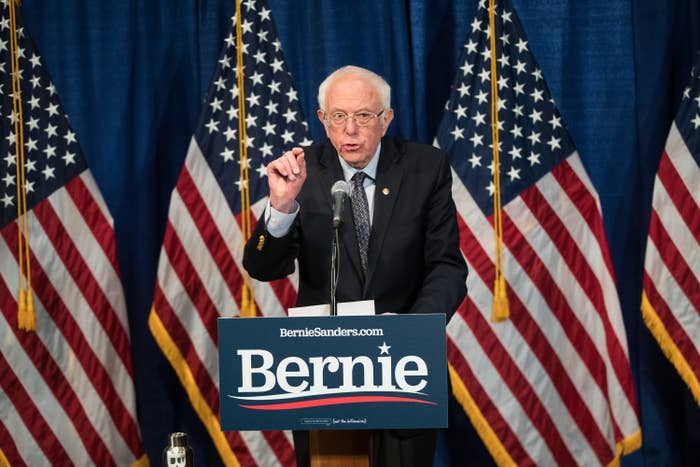 According to Google, you do not typically call someone an oxymoron. You can describe them as having said something or their actions as ……….actually this is what I am trying to say: "Normally we would think of oxymoron as things, places or a happenstances, but not a person. … You don't call someone an oxymoron but describe how they are an oxymoron." I can say something that is not typical……..this is my blog: 'Bernie you are an OXYMORON!' Do you even hear yourself?
Yesterday, Bernie Sanders spoke about the coronavirus and used it in a political way (Of course he isn't politicizing the coronavirus right?) to call our president and his administration "incompetent". Then he went on to lecture us.
Bernie said, to paraphrase "We (meaning you and me, NOT HIM) should only listen to scientists, researchers and doctors, NOT POLITICIANS (regarding the coronavirus)". Then Sanders went on to lecture us on the virus. SO BERNIE, BEING A POLITICIAN THEN SHUT UP! You are a career politician. We should take your advice on this, we should all stop listening to YOU!
Bernie, gave no insight on how he would have done ANYTHING better than Trump. Bernie could only criticize…….and make untruthful statements. Here is what Bernie attempted to do:
After calling Trump and his administration incompetent, Sanders stood and tried to act as if HE WAS THE PRESIDENT. Even though the primaries have indicated Sanders will not and never will be our socialist president. Sanders wants us to listen to him and only him, especially now, as he tries desperately to take advantage of a health crisis. This is a perfect example of a socialist/socialism. He is commander in charge of the podium. Not Trump! "Don't listen to politicians" Sanders said. But then went on because we are to listen to him. Like Bernie isn't a politician, he is Bernie………'I am your president and I know what is best for you'! (To be clear, those aren't his exact words, but may as well have been.) This is socialism speaking!
Bernie can not even hear himself. Bernie Sanders is absolutely a socialist. He has an oxymoron tongue and brain. Bernie Sanders is a socialist oxymoron, and it ain't no accident!
Bernie help us not listen to a politician………SHUT UP!