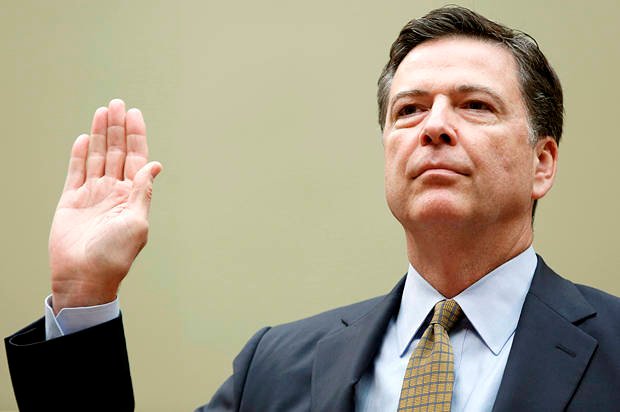 I know this for a fact: The deeper you go into an underground coal mine the darker it gets. Just when you see, feel and experience the darkness and think it can't get any darker…..it gets darker. I know this because I worked in an underground coal mine for 3 years. Parallelism with the Deep State, known as Washington, D.C. Your government my fellow Americans, you know those that govern, rule and create laws that only apply to us peons, us commoners, lowlifes, We the People that Hillary said "Americans aren't capable of making decisions for themselves, we (I) must make them for them because they are too stupid " (not her exact words but point made). The Deep State is real, it is a dark hole, a deep, dark and cold place in our nation.
I know this is very early in the Inspector General report, but are we once again seeing a different tier of justice for those Deep State lifers? Apparently, as of now former pathetic FBI Director James Comey will not be charged with leaking classified/confidential information (especially those memos he kept safe in his house on Donald Trump as President Elect and as sworn in POTUS). I understand that breaking Bureau policy, criteria, rules are not necessarily criminal offenses, despite taking "oath of office". Yeah, "oath of office" means nothing anymore, not in this life anyway! The shame of it all! Comey knew he was violating policy, and he was on a mission to keep Trump out of the White House. Comey was instrumental in a coup to remove Trump the moment he took his seat in the Oval Office (especially if Trump fired him). ABUSE OF POWER in the very least!
Remember, if you read this blog, I had a post that stated or questioned: Have our investigations purpose become ONLY SO THEY KNOW WHO, WHAT, WHEN (AND EVEN WHERE) NEEDS TO BE INVESTIGATED ONLY SO THEY KNOW WHAT ALL NEEDS TO BE COVERED UP?
The Deep State is darker and in this case colder the further we go! The sad part, and the part Americans better get a grip on and do something about is: It's bigger and wider than we think. Are those people in power, elected, appointed and this includes the investigators (and those investigating the investigators) part of the Deep State? Do you really know who you can trust? They protect one another. There is dirty laundry all around us! Washing and bleaching won't get rid of this bureaucratic stench. Gather them up and burn them. It will take drastic change! Washington bureaucrats have one purpose, to serve and protect themselves, not to serve our nation. Start with term limits! Oh yeah, they, those currently in office (along with the Deep State) would have to pass that into law. No chance of decreasing their salaries while they're at it I guess? Serve your country for a term or two and then return home? Are you crazy, I haven't gotten my $100 million in my bank account yet!!!
Comey had his predictable moment to paraphrase: "See, the IG exonerated me! Somebody owes me an apology!"
The corrupt are so corrupt, even when they know they are acting wrongfully, think they are doing nothing wrong (I didn't do it and you all owe me an apology!) The lying piece of ……………..!
Will any of these rotten eggs, be broken……..cracked? Fry 'em!
Sometimes covering up amounts to months (years) of investigation, followed by a statement or report that states they found evidence of wrong doing, broken laws, followed by but we don't have enough to prosecute. Or it would not be in the best interest of Americans to pursue any charges!
Would you get away with that?