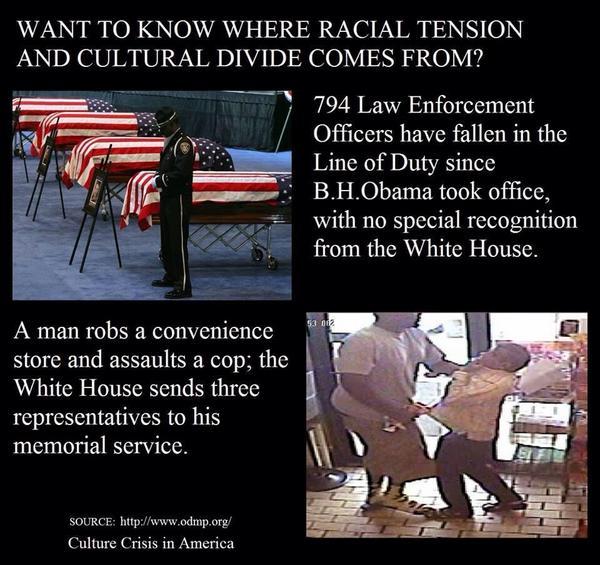 It is stronger than racial tension and cultural divide, it is hate.  Barack Obama is doing everything he conceivably can to create a nation that is at war against one another.   He wants racial tensions to peak, not just between blacks and whites but all races and nationalities.  He doesn't want civil war, where there are organized factions with common interests, he wants total chaos……a virtual free-for-all.   Obama wants to turn our nation into a Somalia or Uganda, just another 3rd world country.   I guess he would feel more at home.
Corruption in government is on the rise, especially from the White House.  Executive orders are common everyday decisions, orders that are not in the best interest of our country.   There is no common sense in the White House.  Fast and Furious, scandal…….Benghazi total neglect, ISIS and Syrian facade, a diminishing military cut back by your POTUS, and countless others; it's an Obama  pile on.
Obamacare………has it been good for you?   Obamacare may provide for some that did not have coverage before, but those that had good insurance, are losing benefits.   The quality of healthcare has declined and costs are escalating.   That rolls into part of the chaos.   Obama sent over 3,000 American troops into an Ebola infected Liberia, most will not have total protective gear.  Does that make sense?   Obama does not want to quarantine medical workers returning from Africa.   Does that make sense?   Then there is the infamous immigration issue, we have loose borders, at a time we need the greatest restrictions and control of what comes in, especially with disease.   Does Obama want infectious diseases to spread throughout our nation?   Think about it, that is one aspect of 3rd world countries, disease.
Chaos has moved to the streets, just look at Ferguson.   Looting and vandalism, and riots, our neighborhoods are beginning to look like those in Somalia.   Law and order is on the decline………….3rd world.
Barack Obama is out of control.  That is the definition of a 3rd world country, one that is out of control.   Our Congress is meaningless, they do nothing; their greatest responsibility is a checks and balance that includes the President of the United States.   Our Congress has allowed Obama to take as much power as he wishes.    We don't have a president, we have a tyrant.
We the People are ultimately responsible.   What are we going to do about it?   Don't say nothing………there is nothing we can do, because there is.   We start by voting……..and not the same morons we repeatedly re-elect.   Then Obama must be held accountable.